5 powerful Tools for eCommerce Conversion Rate Optimization in 2019
Now, when competition has dramatically increased, marketers and CEOs have to fight hard for every single potential customer and every percentage point of conversion. Clients are becoming more demanding and know how to count the key performance indicator (KPI), and potential customers are more selective when choosing a vendor or a performer.
Statistically proven by Venture Beat, almost 3000 marketers think that conversion rate optimization (CRO) remains the most significant part of any business's aspiration for success and growth.
To maximize the percentage of conversion and reach a positive return on investments (ROI), you need to constantly track trends in the market and investigate their practical effectiveness.
In this article you'll learn about the most interesting and up-to-date ways to increase conversion and methods to apply them on websites of different types successfully.
"Before implementing specific ecommerce conversion rate optimizations, you should ensure you are doing a great job of the basics because that is most often where the biggest opportunities for growth will be found."

Danny Halarewich from Lemonstand
Getting a huge boost of conversion with social proof
Entrepreneurs are in a bit of a war nowadays. But all people love it when everything is simple, and that is HoverSignal's key advantage. Easy to install for website owners, nice looking and not annoying interactive notifications - isn't that the perfect tool? It is as long as it impacts your conversion rate positively.
HoverSignal team is convinced that some services that claim to make your conversion rate shoot up to the sky are doing the exact opposite. Some of them are over 10 years old, but their extensive history is not a good indicator of reliability and effectiveness. Being innovative is the key to success, and HoverSignal keeps up with the newest trends in the field.
HoverSignal team has done a ton of research and is ready to release one of the best services in existence in 2018. What does it actually do? You need 2.5 minutes to understand it and 2.5 minutes to set it up on your website. So if you have 6 free minutes, just install it and spend one enjoying the notifications working for you.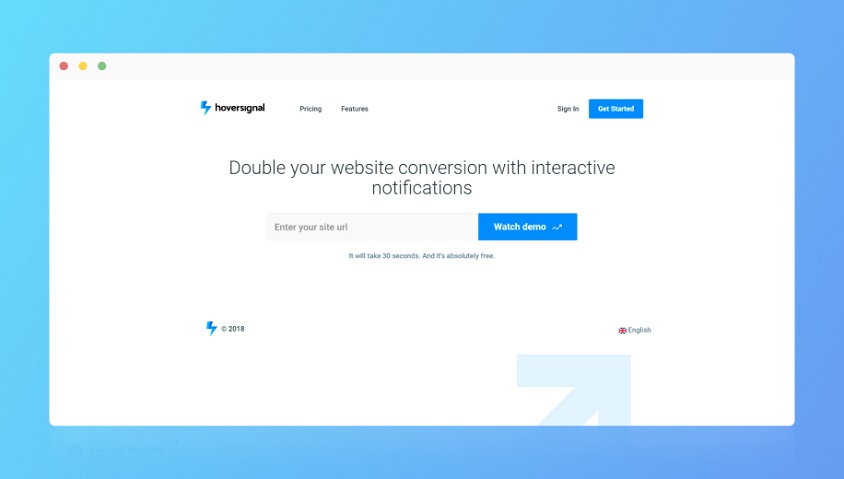 1. Social Proof

If people are afraid to make purchases on your website, try the social proof signals.

Seems familiar? Of course! You can see those on Booking.com and other popular websites. Feels prestigious, doesn't it? You are using the same tactics but it's even more good-looking and comfortable.

2. Getting subscriptions

If the fan base of your dog hats or fire extinguishers shop is not as big as Michael Jackson's you definitely need the Ask for email signal.

This method is considered to be more effective than just "subscribe" buttons because it shows that people take action and the content is valuable for them.

3. Discount timer

And last but not at least – the special signal which increases your website's session duration: Discount Timer. It's a notification with a slowly increasing discount which keeps you on the page. When you click it, a form with email request appears.

As a result, you can get a vast number of leads and a similarly impressive conversion generation.

How much does it cost?

The Start version is free and includes all features. There's also a Pro version which gives you the ability to turn off HoverSignal branding for $9.99/month.
Collecting surveys and leads with chat-bots
Keeping in touch with customers is necessary if you want them to make purchases.
According to statistics, 20% of clients would consider making purchases from a chatbot, and 40% of them want to receive offers from it. Chatbot is a hunter which perfectly knows its game. It helps customers to find proper deals, and it knows exactly what they need. Chatbot is an essential part of every business tools armory.
Collect.chat can be considered one of the best tools for online businesses in 2018. Most of their competitor services are not as easy to add to your website and also very time-consuming, while Collect.chat can be installed in a few clicks. These guys know their job, and that it is to save customers' and your own time. The visitor should be convinced that he is free to decide whether to buy or not. He wants to ask a question or leave an email if he so wishes, but not because of annoying full-screen popups.
Using Collect.chat is as easy as making a coffee in the morning. Just copy and paste the small piece of code or use the Wordpress plugin. The interface is simple and very adaptive to your requests. Cooperate with the service as it analyzes the audience and helps you develop your business successfully.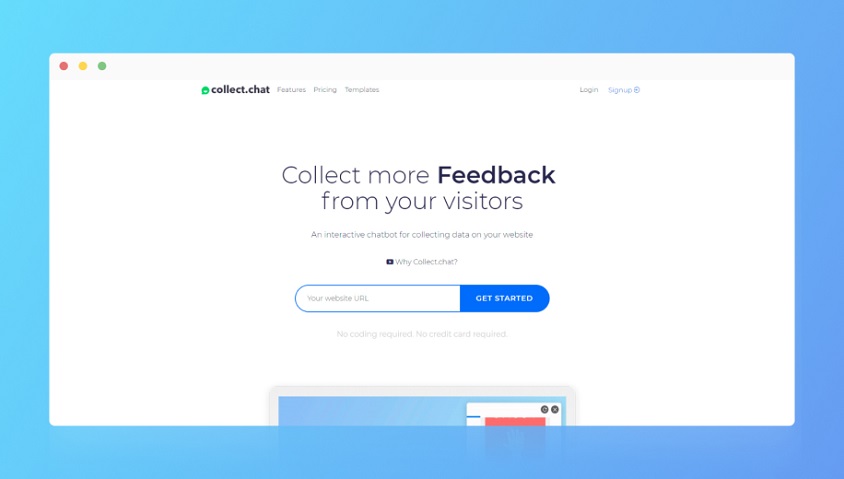 If you don't know how to make coffee in the morning or are not convinced about getting Collect.chat installed, please continue scrolling down.
1. Get feedback

To make the user more willing to leave useful information to you, you can make a bot with surveys. The buyer has the impression of live communication and leaves more feedback. As a result, you can improve your business more effectively, removing defects and focusing on strengths, which the visitor will tell you about..

2. Lead generation

These chats attract customers and keep them engaged. This is the most important part because session duration is the key to success. The bot is very pleasant and has powerful UX to make a visitor feel comfortable and special.

Collect.chat collects all the data, distributes it and displays it in a proper way, so you can improve your business and the relationship between you and the visitor.

Collect.chat collects all the data, distributes it and displays it in a proper way, so you can improve your business and the relationship between you and the visitor.

One of the companies which uses Collect.chat, Cigniti, has some impressive statistics. 40% of their total leads are coming from the chatbot.

Prices

Prices are affordable and flexible. Select the required subscription and bring it on! You can choose to pay yearly or monthly.
Build credibility with your social network activity
Having an account on social media is necessary nowadays. Instagram, Youtube or Facebook are the perfect places to show former customers which new offers or deals are now on your website or to assure the new ones that your company is reliable and is being run by real people.
You won't be popular if you don't get mentioned on social media. Social nets are becoming one of the biggest marketing paths for online businesses, which is especially true about Instagram. In the middle of the 20th century Harvey Leibenstein was the first one to mention the Bandwagon effect in microeconomics. In short, the essence of the effect is that the consumer tends to buy what everyone buys. This effect is statistically proven and social proof is considered to make the "wagon" fill up and go.
With Elfsight at your disposal, you will get a leading tool to increase conversion to stay ahead of the increasing competition in the ecommerce business. This service has a huge selection of different applications, which will help you get leads and trusting customers.
Elfsight team can consult you about any questions you might get while exploring their applications. Though it's easy to choose the relevant one on your own, especially after this description:
1. Testimonials

Instagram or Facebook Testimonials have become a real evidence of reliability while simple reviews are not that powerful nowadays. Real people's reviews attract customers and stay longer on your website. Which leads to increasing search engine ranking.

2. Portfolio

Okay, you have an account on Instagram or Facebook with a huge portfolio. Or maybe it's a YouTube channel with some insane clips there? Show some photos of happy customers or something interesting about your product. This is how consumers can be convinced that the website is held by real people. The more alive the website looks, the less they doubt the purchase.

The whole set of these tools will help you create your solid customer base and blow competitors away.

In fact, almost 45 000 of websites have already installed the Elfsight service, which proves its reliability and efficiency.

Options

Prices vary from 0 to 25$ per month. Starting from 5$, paid versions provide you with a huge number of views and widgets.
Give your customers the opportunity to share with friends
Referral programs are undervalued unreasonably these days. If done properly, they can bring millions to the owners. Consumers are getting trapped in multilayer referral programs without even realising it. Injecting both social proof and sales increasing into your referral program leads to great conversion improvement.
Sometimes the system can be so perfect that there are no disadvantages at all. Keeping in mind that your friend, sister, dog or whoever else bought a product and made a post about it as well, encourages you to make a purchase even if you don't need the product. As some studies show, an advertisement from your surroundings is much more powerful than the usual ones on TV or websites.
GrowSurf is a perfect tool to launch your own referral program. Create a personal style of getting customers involved into your channel and don't forget to check the conversion rate!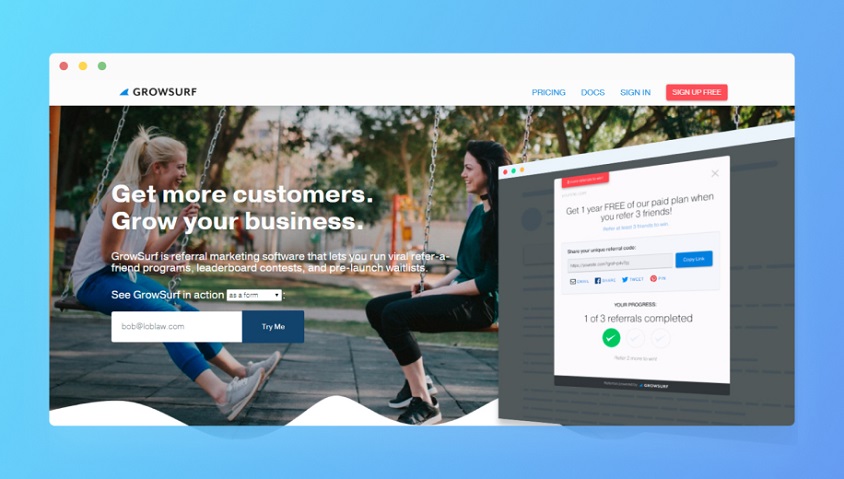 Referral marketing is not only about friends and family. It consists of bloggers you follow, news you read and Testimonials posts you see as well. And guys from Growsurf know this. And they will make your business expand:
Whatever your company specializes on, there is an option. Customers? Users? Subscribers? Make your leads get you more leads!
1. Draw attention to your product

Using barkers like "invite as many friends as you can and win a T-shirt!" you add the effect of competition and get more referral program members. You also establish a relationship of trust with your customers.

2. Increase customer base

Offer clients discounts if they tell their friends about you. A customer won't miss such a chance and send the links to everybody he/she knows. This increases social proof and a chance that customers will choose your shop specifically.

Growsurf service allows you to create the referral program specifications, customize the popup, target certain audiences, automate the system 100%, collect and download all the data. And everything is simple. A cup of tea!

What are the possibilities?

Emphasizing the fact that some researches show 92% of consumers trusting the information they get from friends or family, do you still have questions about using Growsurf?

Growsurf team made a research about Airbnb's referral program. The result is quite impressive.

And finally, the service is free. You can pay 49$ for a Premium subscription but it is not necessary at all. You get all the main features without purchasing the Premium version. But if you want the ultimate conversion growth and comfort, go for it.
Personalize your calls to action
Researching consumers demands is an essential part of sales development. RightBar is a part of RightMessage service, but we will only talk about the Bar. Every successful company got there because of proper and timely reforms of their marketing moves. One of the main parts was understanding their customer. What does a customer actually need? If you can answer this question, you can make a proper offer.
That is what Snickers did in the end of the 20th century. At the start, they positioned Snickers as a snack, which can replace a proper lunch. But the mindset of people in some countries didn't allow them to consider a chocolate bar a complete meal. Bearing this in mind, they refocused on teenagers who, unlike their parents, replaced porridge, soups or salads with Snickers with great pleasure.
RightBar will help you to analyze the consumer's desire and use this information to show the right message to the right person, which will increase your conversions rapidly.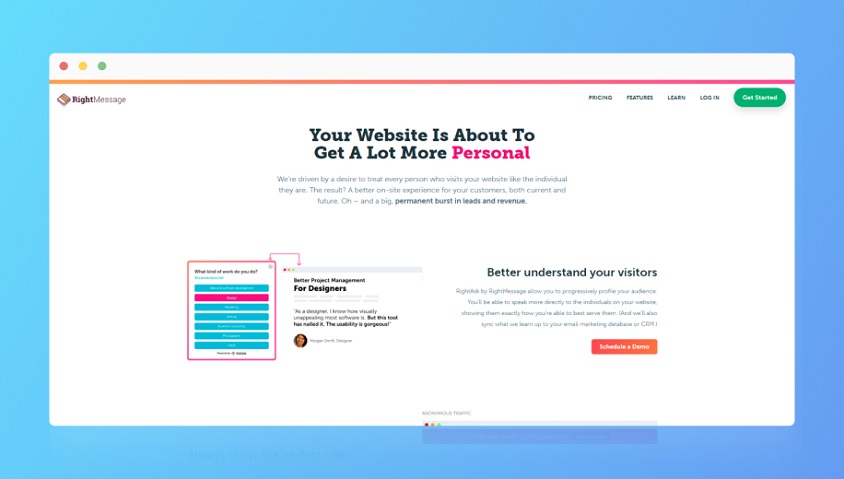 RightBar perfectly knows where the visitor comes from and what he is looking for. The service is simple for the user. If you sell books and T-shirts, a proper call-to-action bar is shown: T-shirts on sale for those who search T-shirts and a special offer on a Harry Potter book for the readers. It also knows whether it deals with a Harry Potter fan or The Lord Of The Rings one.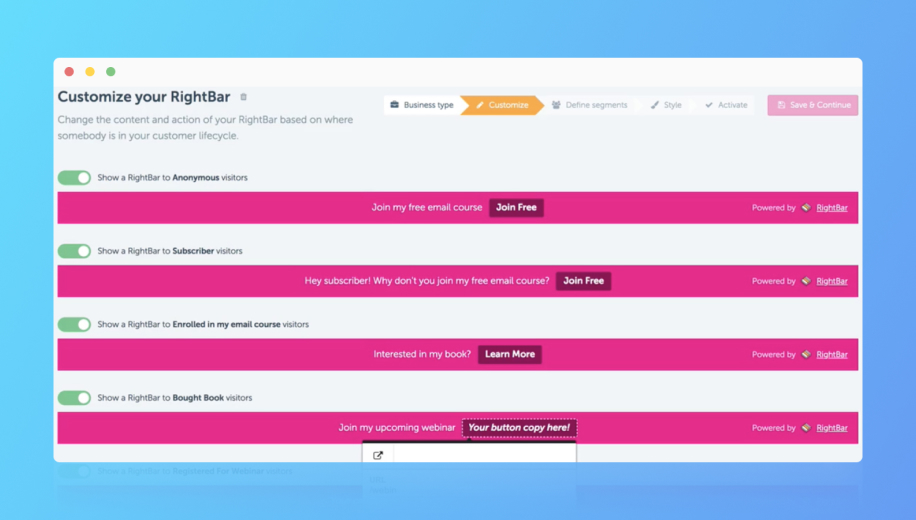 It nudges the unidentified to opt in; subscribers are introduced to popular products, and regular customers are led to become a bigger successes for you.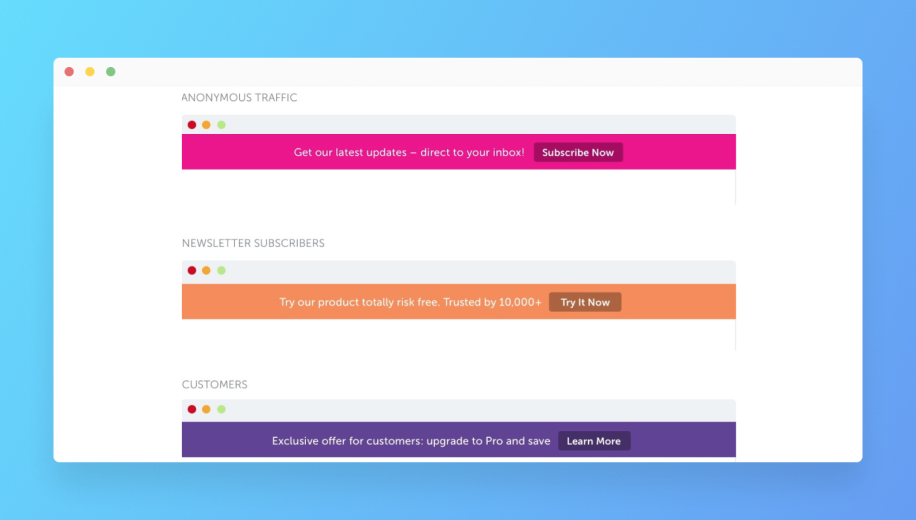 Without a doubt, this small bar on your website will turn visitors into leads and increase your conversion quite noticeably.
According to Built With statistics, RightBar is already run by more than 1000 websites even though it was launched only a few months ago.
RightMessage has no free trials, but RightBar really doesn't cost that much - 20$ per month if you are referred from Producthunt. (The standard cost is 29$). You may choose other packs for more of a conversion rate optimization experience.
Conversion increasing conclusion
To sum it up, conversion optimization is hard work, but a lot of services provide you with powerful tools to make iteasier and much more comfortable. As a businessman, you should always search for new ways of effective leads generation and keep up with the latest trends.
Do your research, take risks and always try something new. You will not be disappointed and sooner or later your servant will make you some coffee.