The vitals of a successful website in 1 platform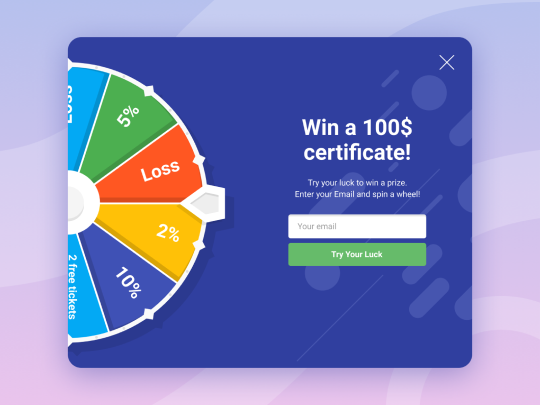 Games & Popups
5 types of games like Spinning Wheel adds the power of gamification to your website to dramatically increase engagement.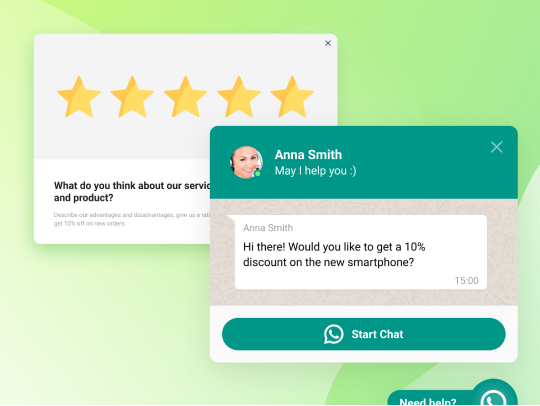 Feedback, Forms & Chats
3 types of forms and chats help you collect reviews or feedback, easily track survey and poll data, understand your customers NPS.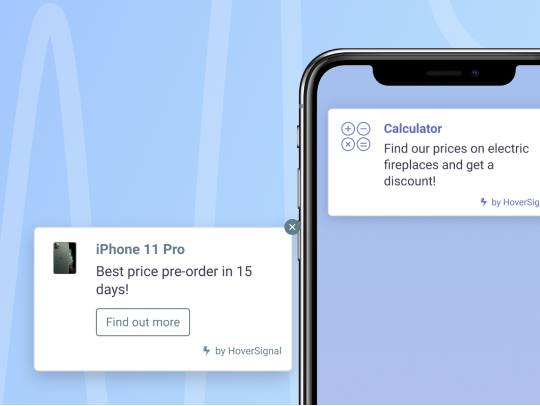 Sales Pop & Social Proof
4 types of sales pops create urgency, reduce cart abandonment, offer free shipping, get customers to trust you and a lot more.
Live Demo of Our 14 Apps
Collect more emails with a fun game
Secret presents are hidden on some pages, find them all!
Page 1
Page 2
Page 3
Page 4
Page 5
Page 6
Boost Engagement and Make Your Visitors View More Pages With Easter Eggs
Collect more emails with gamified pop-up

Forms
Easy-to-use online form builder
Collect feedback from users and customers
The trendiest way to communicate with users
Chat with customers the way they are used to

Quiz
Create fun quizzes to collect leads
Social Proof Signals
Boost conversion by showing last purchases and limited stock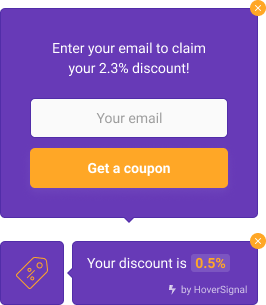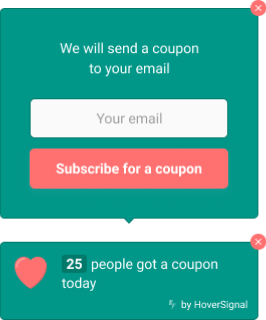 Collect more leads with interactive notifications
Facebok Reviews
Display your Facebook reviews and increase trust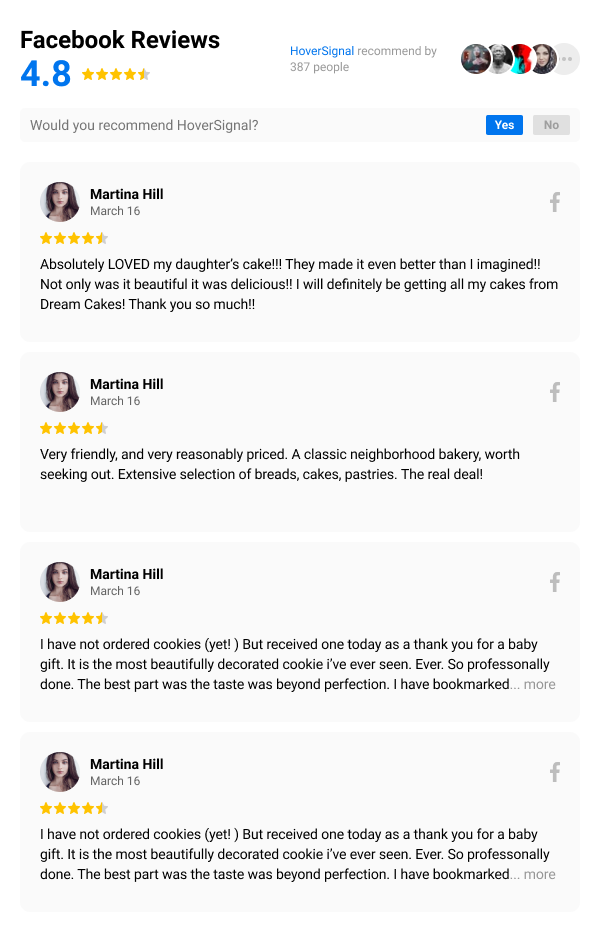 Instagram Testimonials
Let real Instagram reviews boost social proof
Facebook Feed
Facebook page content on your site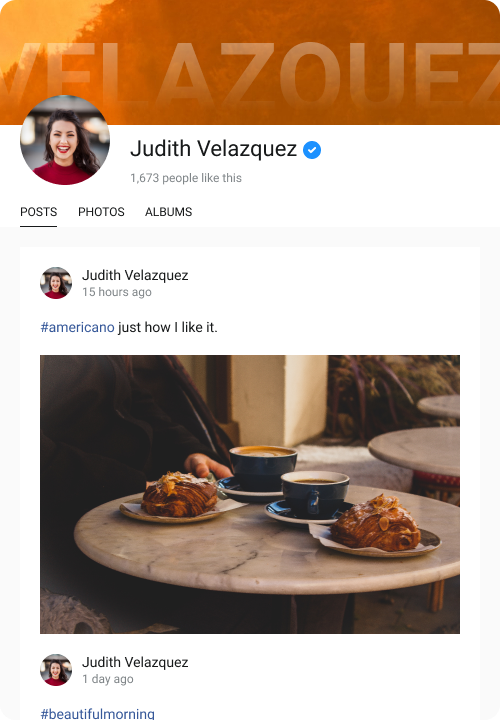 Instagram Feed
Instagram page content on your site
100+ Ready-to-Use Templates
Use proven ways to boost sales and conversion
Multiple Style Options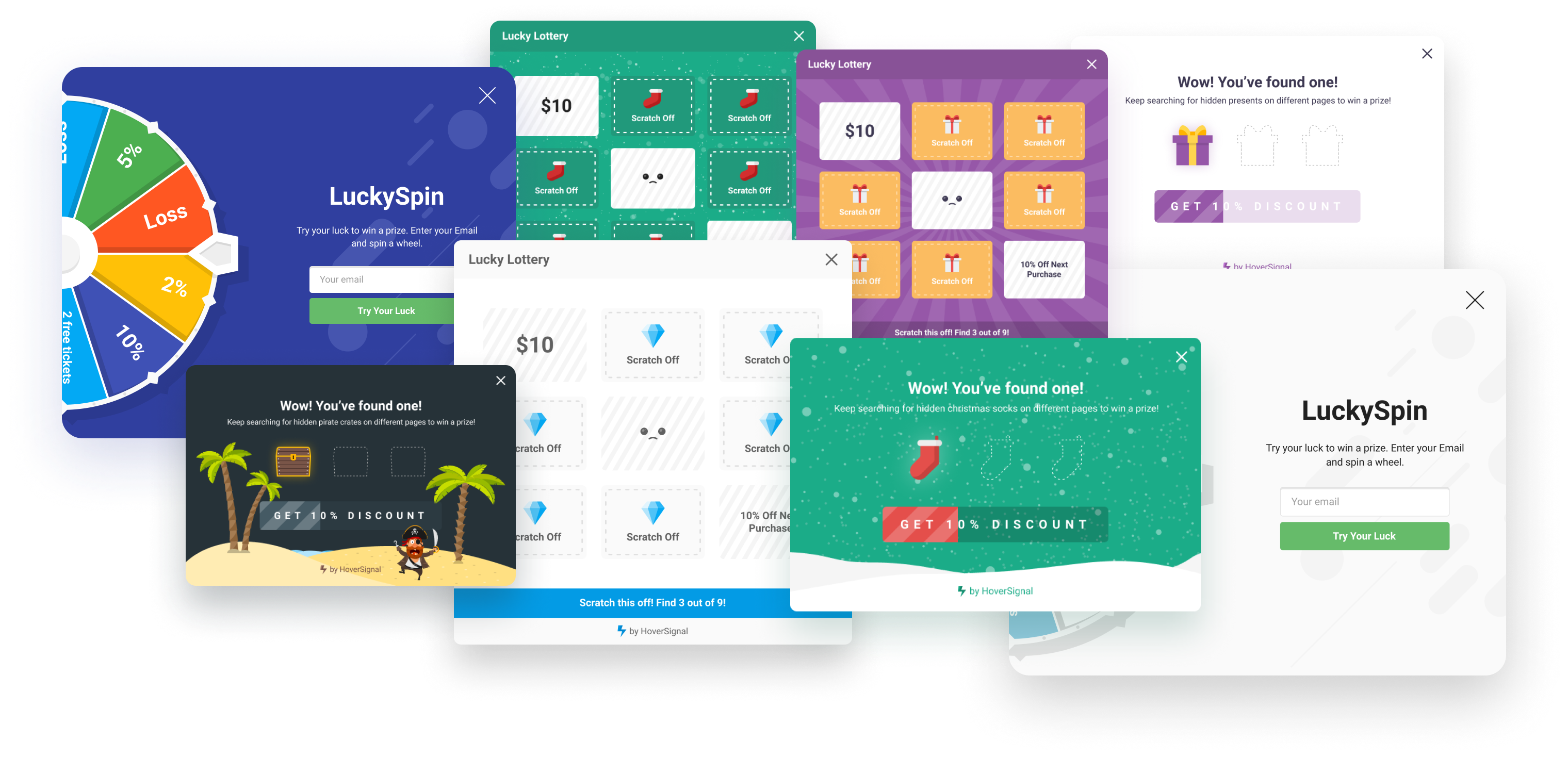 Where to Display Options
Mobile Friendly
Works perfectly on any device
Mobile Friendly
Works perfectly on any device
Mobile Friendly
Works perfectly on any device
Prepare for More
HoverSignal Roadmap
LTDF
Launch
April
May
June
July
August
September
April
New App
TikTok Feed
May
Backend improvement (under the hood enhancements)
June
New App
Photo Gallery
July
Improved User Experience
August
More Features for Previous Apps (Templates, Integrations and Data Fields)
September
New App
Before and After Slider
And So
Much More!
Planning to Launch New Update Every Month!
Continuous development
10 000 happy customers
More than 500 new users each month
Stability
10 years of hosting guaranteed
Support
14 apps developed and 6 more coming
FAQ
General Questions
Technical Details and Integrations
Deal Details
HoverSignal is a marketing gamification platform, we help businesses run engaging campaigns to attract new and retain existing customers.
We want to create a marketplace for gamification apps. Currently HoverSignal is made up of a number of different apps:
Social Proof Signals: create on-site notifications that creates FOMO or helps you collect email addresses.
Lucky Lottery: collect more emails with fun games.
Easter Eggs: motivate visitors to browse more pages for discounts & boost your SEO ranking.
And much more. You can check full description of each app here
HoverSignal is incredibly easy to use whether you're a small business or a large corporation, you can craft your campaigns to align directly with your objectives.
Here's a few examples:
You want to boost your SEO ranking by increasing average duration of a user session.
You have a store and you want to give out coupon codes to your customers.
You want to build an exit intent popup that is fun to interact with and not annoying.
You are running a flash sale on a particular product range and want to drive awareness by giving away gift vouchers.
You have been tasked with growing your newsletter subscribers by 100% in 1 month.
You want to show proof of demand by displaying information on last purchases or registrations.
You have an E-commerce store and you want to popup a special offer to customers that are about to leave your site.
You want to show your customers reviews to new visitors.
All our forms, pop-ups and buttons are adjustable. You can translate everything you need to any language. However, HoverSignal admin panel currently is in English & Portugese only.
Yes, we make sure the HoverSignal experience is optimised across all mobile platforms.
HoverSignal provides a simple script that could be installed on any platform.
We also have a step-by-step process description for most popular CMS's:
Wordpress
Shopify
Joomla
Weebly
WooCommerce
You can connect HoverSignal to almost any platform by using Zapier or our API
We also have built-in integrations with current platforms:
Mailchimp
Google Analytics
Gist
Moosend
ActiveCampaign
No, it does not. The script is loaded asynchronously. We have a demo page with all our scripts active. Here is the results at google speed test
We're offering lifetime access to our gamification apps instead of monthly plans. This deal is limited in time and has a huge discount.
The core difference in our Deals is between the number of website you can add into hoversignal. We've created 3 stacks:
1 website / 1 $69 coupon
10 websites / 3 $69 coupons
Unlimited websites / 4 $69 coupons
You can reach the support team either via Live Chat in the admin panel or at support@hoversignal.com
Our regular prices for unlimited usage is 49$ per month for each app.
Yes, you can upgrade your lifetime plan with a discount.
The deal ends on February 1.
You will get all the updates that are a part of the plan you purchased.